Quang Binh offers two new cave discovery tours
Quang Binh Province, well known for the UNESCO World Heritage site of Phong Nha-Ke Bang National Park, has launched two new adventure tours that will take in the stunning Thien Duong-Gieng Troi, Va and Nuoc Nut caves.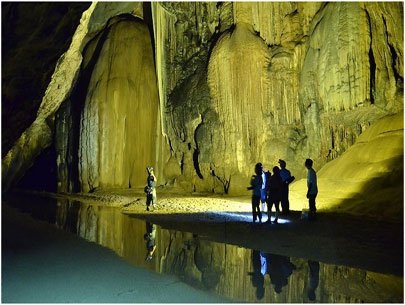 The provincial government has permitted Oxalis Adventure Tours to organize the tour of Va and Nuoc Nut caves, and Truong Thinh Tourist Company to hold the tour of Thien Duong-Gieng Troi cave.
The province requires the tour operators to prevent any negative impacts on the environment and the natural landscapes.
Thien Duong-Gieng Troi cave is part of the Thien Duong cave system stretching seven kilometers.
In the Thien Duong-Gieng Troi discovery tour, participants can choose a one-day tour costing VND2 million (US$89.2) per person or a two-day-and-one-night tour priced at VND4 million (US$178.3) per person.
There are two one-day tours and one two-day-one-night tour every day and each group has a maximum of 15 people.
Va and Nuoc Nut caves had been found by local residents before they were explored by the British Cave Research Association in 2000.
For the tour discovering these caves, tourists are required to walk 10 kilometers through the caves, cross a 500-meter spring, and climb a 15-meter-high wall. Tourists are equipped with climbing gear.
There are two options for tourists: conquering Va cave in a two-day tour and discovering Nuoc Nut cave in a one-day tour.
According to information on the province's web portal, the local tourism authority will launch a series of new tours, including those to Va and Nuoc Nut caves, Sinh Ton (survival) Valley and the six-kilometer-long Toi (dark) Cave and a pilgrimage tour to the ancient pagoda of Hoang Phuc this year.
The province will also organize festivals and cultural events such as a tourism week in Dong Hoi City, an international beer festival, and a boat racing festival in Kien Giang River.
SGT
Source: vietnamnet